TALLINN CUP LUCIA RACE DEC. 15 – 2001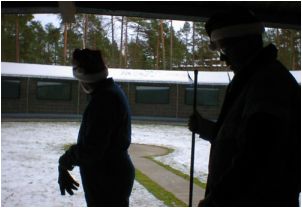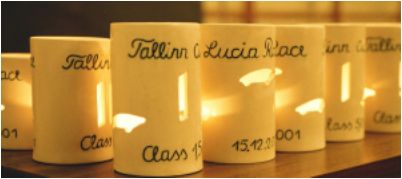 Report from Nils Björk
The Lucia races are a new tradition started last year and will go every other year in Tallinn and Orebro. The aim is to have a model car party in the winter season with racing, social events and talks about new ideas and designs, next season and regulations. To the soft southerners winter racing might appear as an impossible idea, but we old hardened model racers in the north, who grew up with propeller sleds and control line in winter on ice and -20 Centigrade 50 years ago, know it is possible. In Tallinn and Orebro where we have roofs over track and warm houses nearby in which to work on cars and drink "gluh-wein", the conditions are ideal.
A party of 3 went over with the ferry from Stockholm and arrived Friday morning, so we had time that day to do some Christmas shopping and eating in the beautiful old Hansa town. Tallinn has several high class art handicraft shops with out of the ordinary things not yet ridiculously expensive, so the car boot was nicely filled in the evening, when Lembit Vaher had fixed tickets to the Premiere of Carl Orff's opera "Die kluge frau", where some mingling was done with the cultural elite of Estonia.
The track in Nomme, Tallinn, is situated in the garden of the community youth house. Here are a lot of activities every day, dancing, theatre, model plane building, motorcycling, photo club, doll making and so on.
Saturday it was race-time with gluh-wein. Dieter Hecht had flown up from Germany so 3 Nations were present. We worked in the nice and warm cellar with cars, had coffee, cakes, food in hall on ground floor and were called out to track via com-radio for the runs. Outside it was -1 Centigrade, dry and no wind. The Nomme boys had covered the track some days before, so there was no snow on track surface and it was dry and grippy. During the day we found, as expected, that the cars started and ran as usual. The feeling was very much the same as when we 50 years ago ran in sports halls in winter in Stockholm.
The 5 classes were run in number order, there were 2 runs, one before lunch and one after.
1,5 cc had results of the usual form, with one interesting incident. In Jan-Erik Falk's first start his car after some coughing went up to 266 and stood there for several laps, well over his own world record. But his helper did not push the button, so no time. There were several explanations: "I did not hear him, I did not see his sign, I was not satisfied with the speed, I did not want to up the record this year again, I want to save that for next year".
2,5 cc was won by Lembit Vaher, in his usual good form with Usanov car and 273,8 km/h.
5 cc was won by Bruno Vaher, 282 km/h, and Helge Eriksson second with 183,3 and a loose flywheel.
10 cc Dieter Hecht had his car in best order and won with 306 km/h, with Ando Rohtmets second 300,6 km/h. Personally I was experimenting with centrifugal fuel switch and accompanying setting problems, and had thankfully my last race with the Picco engine that has such grave spare parts problems. Next year will be raced with the new Swedish MB 10 cc engine.
3,5 cc This class, so much messed about by the Swiss, was won by Magnus Laas 232,8 km/h, with one Mart Sepp's cheap kit cars. Next year the Swiss hope to eliminate these quick cars with the new rules. Innovative Mart Sepp had rebuilt his old car according to the new rules in 2 days with a new body and the pipe forwards and it looked very promising with 215,5 km/h. When sorted next year it should be back on form, and we should see some very long Swiss noses! We now reckon any Swiss rule change can be met in 2-3 days, so the loudvoiced Swiss will be hard pressed to keep up in their rule changing rally.
After competition it was prize giving and gluh-wein and concocting of cars and plans for next year. In the evening the big dinner at Alfredo's with ice cream.
Sunday was the propeller car contest for the young boys. These are real simple cheap cars for beginners, just a diesel engine with prop and tank in a pod and 3 or 4 wheels. There are drawings and you have to build the car yourself with help of club instructor. There are 2 classes, 1,5 cc and 2,5 cc. A lot of small boys were milling about helped by some leaders. The speeds attained were 125 km/h in small class and 155 km/h in big class. A lesson to all how real beginner activity should be managed.
Inside we older people stimulated ourselves with discussions on next year's cars and engine mods. There will be a new 1,5 cc and a new 10 cc engine and some 3,5 cc cars to WMCR rules with gearbox. We saw with our own eyes some nice 3,5 cc engines, for example CMB, that are in plentiful supply (but do not exist in Switzerland). In Scandinavia we will start with this very promising WMCR class 3. The situation of FEMA was discussed, now the Germans want to break up WMCR and isolate Europe. Some people here in the north would rather stay with WMCR and leave FEMA.
Sunday evening we went home with the ferry to Stockholm and our workshops to make cars and engines during the dark winter for next summer.